Anna Erdei Ph.D.

Professor, member of the Hungarian Academy of Sciences

List of publications (MTMT)
Short CV.:
M.Sc.: biology-chemistry, 1974, Eötvös Loránd University, Budapest
Ph.D.: Immunology, HAS/ELTE, 1984.
D.Sc.Biology (HAS) 1991.
Habilitation: 1992., ELTE
Professor, Head of Department of Immunology: 1993-
Corresponding Member of HAS: 1994. Member of HAS: 2010
Fellowships, visiting scientist, guest professor invitations:
EMBO Fellowship:
MRC Immunochemistry Unit, University of Oxford, 1985-87.
Visiting scientist, guest professorship:
Basel Institute of Immunology (1.5 year),
Gutenberg University, Mainz (6 months),
Open University, Milton Keynes (3 months),
Robert Koch Institute, Berlin (3 months),
Innsbruck University, Weizmann Institute, Rehovot, Izrael (6 months)
Awards and honours:
Magyar Érdemrend középkeresztje (polgári tagozat) 2019 – Az immunológia területén végzett több évtizedes, nagy hatású kutatói pályája, a tudományos utánpótlás nevelése iránt elhivatott oktatói munkája, valamint tudományszervező tevékenysége elismeréseként.
Prima Award (2013.)
Széchenyi-Award (2011.)
OTDT Medallion (2011.)
Pro Universitate Gold Medal, ELTE (2008.)
Outstanding Teacher of the Faculty of Science at ELTE (2007.)
Master teacher Gold Medal (OTDT, 2003)
Pro Scientia Award (2000.)
Széchenyi Professorship (1997-2000.)
ELTE, TTK Scientific Award (1993.)
EMBO Fellowship (1985-1987.)
Award of the Hungarian Academy of Sciences (1978, 1980, 1983.)
Further activities:
Head of Doctoral School of Biology at ELTE (2000-)
Head of MTA-ELTE Immunology Research Group (1998-2013, 2013-2017)
President of the Life Sciences Scientific Board of the Hungarian Scientific research Fund (OTKA) (2008-)
Trustee of the Magyary Zoltán Board (2011-)
General Secretary; European Federation of Immunological Societies (EFIS) (2000-)
Member of Presidential Board of the Hungarian Society for Immunology (1998-)
Research interest:
We study the constructive and instructive role of innate immunity; how its elements are involved in the initiation and regulation of adaptive responses. We focus on the role of the complement system, which links these two immune systems at several points (Figure 1.).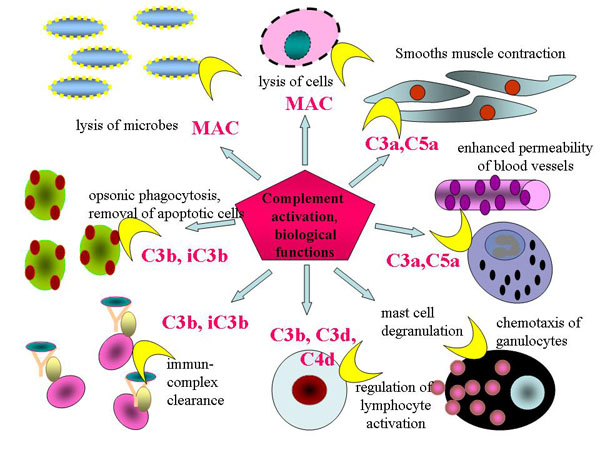 Figure 1. Biological role of complement activation fragments
We investigate how the activation fragments of the major component, C3 (C3b, iC3b and C3d) and their receptors (CR1, CR2, CR3 and CR4 - Figure2.) are involved in these regulatory processes. We also investigate how the various cellular and molecular mechanisms are involved in the pathogenesis of autoimmune diseases – particularly RA, SLE.

Figure 2. Activation fragments of C3 and its receptors
Research projects
Regulation of B cell functions by complement receptors type 1 (CR1; CD35) and type 2 (CR2; CD21) ;
The effect of the B-cell depleting anti-CD20 therapy (e.g. Rituximab treatment) on the function of surviving B lymphocytes in CLL patients.
The effect of immune complexes interacting with various receptors expressed by B cells (such as BCR, CRs, FcRs, TLR7, TLR9) using antigens and its fragments, ligands and receptor-specific antibodies;
Role of TLRs in human B cell activation and function; cross-talk between the BCR, CR1, CR2 and TLRs;
Regulation of dendritic cell (DC) maturation and differentiation by complement receptors and complement proteins;
Expression and function of various complement receptors on T- and B-lymphocytes, macrophages and DCs derived from healthy individuals and autoimmune patients (RA, SLE).
Methods/Experience
Tissue culture, immuno-biochemical methods (FPLC), protein chemistry; molecular biological methods, signal transduction analysis;
Isolation of populations and sub-populations of T and B lymphocytes, dendritic cells etc. by MACS and cell sorter;
Analysis of cellular functions: proliferation, antibody- and cytokine production, antigen-presentation etc. (ELISA, ELISPOT, CFSE-labelling etc.);
Confocal fluorescence- and video-microscopy, (Olympus Fluoview 500 CLSM)
Multiparameter flow cytometric analysis and cell sorting (Becton Dickinson FACSCalibur; BD FACS Aria III).
Support:
Hungarian Academy of Sciences; MTA-ELTE Immunology Reserach Group – 175 million HUF/5 years, as of September 2012.
Selected publications:
Kremlitzka M, Mácsik-Valent B,Erdei A. Syk is indispensable for CpG-induced activation and differentiation of human B cells. CELL. (MOL. LIFE SCI.) 72(11) 2223-36. (2015)
Varga A, Gyulavári P, Greff Z, Futosi K, Németh T, Simon-Szabó L, Kerekes K, Szántai-Kis C, Brauswetter D, Kokas M, Borbély G,Erdei A, Mócsai A, Kéri G, Vántus T. Targeting vascular endothelial growth factor receptor 2 and protein kinase D1 related pathways by a multiple kinase inhibitor in angiogenesis and inflammation related processes in vitro. PLoS One. 2015 Apr 14;doi: 10.1371/journal.pone.0124234. eCollection 2015.
Török K, Dezső B, Bencsik A, Uzonyi B,Erdei A. Complement receptor type 1 (CR1/CD35) expressed on activated human CD4+ T cells contributes to generation of regulatory T cells. IMMUNOLOGY LETTERS 164(2), 117-24 (2015)
Salánki R, Hős C, Orgovan N, Péter B, Sándor N, Bajtay Z,Erdei A, Horvath R, Szabó B. Single cell adhesion assay using computer controlled micropipette. PloS One 9(10) doi: 10.1371/journal.pone.0111450. eCollection (2014)
Kremlitzka M, Polgár A, Fülöp L, Kiss E, Poór Gy, Erdei A Complement receptor type 1 (CR1, CD35) is a potent inhibitor of B-cell functions in rheumatoid arthritis petients. INTERNATIONAL IMMUNOLOGY 25:(1) pp. 25-33. (2013)
Sandor N, Kristof K, Parej K, Pap D, Erdei A, Bajtay Z. CR3 is the dominant phagocytotic complement receptor on human dendritic cells. IMMUNOBIOLOGY 218:(4) pp. 652-663. (2013)
Torok K, Kremlitzka M, Sandor N, Toth EA, Bajtay Z, Erdei A. Human T cell derived, cell-bound complement iC3b is integrally involved in T cell activation. IMMUNOLOGY LETTERS 143:(1) pp. 131-136. (2012)
Kerekov NS, Mihaylova NM, Grozdev I, Todorov TA, Nikolova M, Baleva M, Nikolova M, Prechl J, Erdei A, Tchorbanov AI. Elimination of autoreactive B cells in humanized SCID mouse model of SLE. Eur J Immunol. 2011 Nov;41(11):3301-11.
Prechl J, Papp K, Erdei A. Antigen microarrays: descriptive chemistry or functional immunomics? TRENDS IN IMMUNOLOGY31:(4) pp. 133-137. (2010)
Papp K, Vegh P, Tchorbanov A, Vassilev T, Erdei A, Prechl J. Progression of lupus-like disease drives the appearance of complement-activating IgG antibodies in MRL/lpr mice. RHEUMATOLOGY 49:(12) pp. 2273-2280. (2010)
Terenyi N, Nagy N, Papp K, Prechl J, Olah I, Erdei A. Transient decomplementation of mice delays onset of experimental autoimmune encephalomyelitis and impairs MOG-specific T cell response and autoantibody production. MOLECULAR IMMUNOLOGY 47:(1) pp. 57-63. (2009)
Peterfy H, Toth G, Pecht I, Erdei A. C3a-derived peptide binds to the type I FcepsilonR and inhibits proximal-coupling signal processes and cytokine secretion by mast cells. INTERNATIONAL IMMUNOLOGY 20:(10) pp. 1239-1245. (2008)
Andrasfalvy M, Peterfy H, Toth G, Matko J, Abramson J, Kerekes K, Vamosi G, Pecht I, Erdei A. The beta subunit of the type I Fc epsilon receptor is a target for peptides inhibiting IgE-mediated secretory response of mast cells. JOURNAL OF IMMUNOLOGY 175: pp. 2801-2806. (2005)
Erdei A, Prechl J, Isaak A, Molnar E. Regulation of B-cell activation by complement receptors CD21 and CD35. CURRENT PHARMACEUTICAL DESIGN 9:(23) pp. 1849-1860. (2003)
Jozsi M, Prechl J, Bajtay Z, Erdei A. Complement receptor type 1 (CD35) mediates inhibitory signals in human B lymphocytes.JOURNAL OF IMMUNOLOGY 168: pp. 2782-2788. , 2002)
Bajtay Z, Jozsi M, Banki Z, Thiel S, Thielens N, Erdei A. Mannan-binding lectin and C1q bind to distinct structures and exert differential effects on macrophages. EUROPEAN JOURNAL OF IMMUNOLOGY 30: pp. 1706-1713. (2000)
Erdei A, Fust G, Gergely J. THE ROLE OF C3 IN THE IMMUNE-RESPONSE. IMMUNOLOGY TODAY 12: pp. 332-337. (1991)
Somogyi P, Hodgson AJ, Chubb IW, Penke B, Erdei A. ANTISERA TO GAMMA-AMINOBUTYRIC ACID .2. IMMUNOCYTOCHEMICAL APPLICATION TO THE CENTRAL NERVOUS-SYSTEM. JOURNAL OF HISTOCHEMISTRY & CYTOCHEMISTRY 33: pp. 240-248. (1985)
Erdei A, Melchers F, Schulz T, Dierich M. THE ACTION OF HUMAN C3 IN SOLUBLE OR CROSS-LINKED FORM WITH RESTING AND ACTIVATED MURINE LYMPHOCYTES-B. EUROPEAN JOURNAL OF IMMUNOLOGY 15: pp. 184-188. (1985)
Melchers F, Erdei A, Schulz T, Dierich MP. GROWTH-CONTROL OF ACTIVATED, SYNCHRONIZED MURINE-B CELLS BY THE C3D FRAGMENT OF HUMAN-COMPLEMENT. NATURE 317: pp. 264-267. (1985)