Short CV
Graduation (1987): doctor of veterinary medicine (DVM) - University of Veterinary Science, Budapest
PhD (1998): veterinary science - University of Veterinary Science, Budapest
DSc (2013): biology - Hungarian Academy of Sciences
Habilitation (2005): Szent Istvan University, Faculty of Veterinary Science
Post-doctoral training (1991-1994): Department of Microbiology, University of Iowa, USA
Visiting scientist:

Center for Biotechnology, Karolinska Institute, Sweden (1995-2000);
Brandeis University, Waltham, USA (1999, 2 months)

Fellowships:

Research Fellowship - Swedish Institute (1997);
Bolyai János Research Fellowship from the Hungarian Academy of Sciences (1998);
Széchenyi István Research Fellowship from the Ministry of Education of the Republic of Hungary (2001)

Awards:

Szent-Iványi Young Scientist Award (1996);
Life Science Award - Hungarian Society for Immunology (1998);
Bio-Science Award - Hungarian Society for Immunology (2000);
Golden Medal of Szent István University (2006);
Innovation Award - Valdeal Innovation Zrt (2007) and the title of "Innovative Researcher of the year 2010" from the Eötvös Loránd University;
Academy-Patent Award (2012).
Magyar Érdemrend tisztikeresztje (polgári tagozat) 2019 – A humorális immunválasz és antitestek fejlesztése terén elért nemzetközi szinten elismert kutatási eredményei, valamint tudományszervezői és oktatói munkája elismeréseként.

Other activities (present):

President - Hungarian Society for Immunology;
member of the General Assembly of the Hungarian Academy of Sciences;
member of the Senate - Eötvös Loránd University

Founder and CEO of ImmunoGenes (2007), an ELTE start-up that uses an innovative technology (transgenic animals that overexpress FcRn and thus have augmented humoral immune response) to improve monoclonal and polyclonal antibody development.
Research interest
Over the last two decades therapeutic and diagnostic uses of antibodies have been greatly progressed. However, producing antibodies that are specific for the current, most promising therapeutic targets is highly challenging.
The neonatal Fc receptor (FcRn) regulates IgG and albumin homeostasis, mediates maternal IgG transport, takes active part in phagocytosis and delivers antigen for presentation.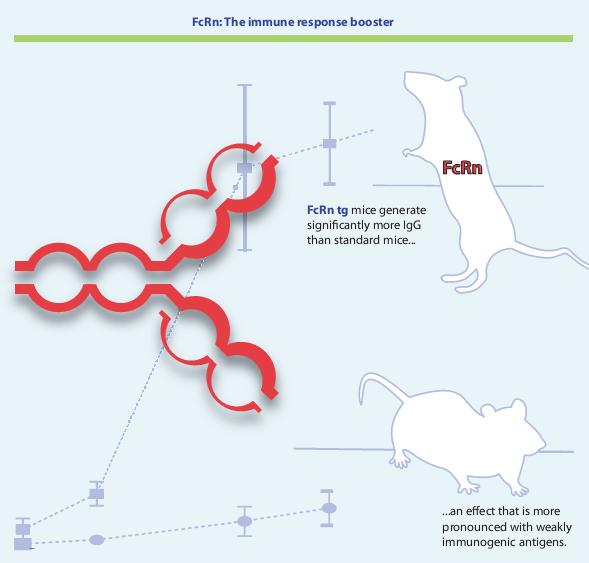 We have created transgenic mice and rabbits that overexpress FcRn and show significantly improved humoral immune responses with:
1) higher antigen specific serum IgG titers;
2) larger numbers of antigen specific B cells in the spleen offering more target specific hybridomas;
3) increased diversity of induced antibodies;
4) generation of antibodies against weakly immunogenic antigens.
Therefore, these animals allow the production of high quality and diverse antibodies for challenging therapeutic, diagnostic and research targets.
We have filed patent applications to protect this innovation that lead to issued patents in the European Union, Hong Kong, Canada, China and Australia and founded a start-up company ImmunoGenes to transfer this technology to the industry. Our transgenic animals have been tested for their effectiveness at the world's largest pharma companies which may integrate them into their antibody development technologies. One of these companies, Kyowa Hakko Kirin, Japan was granted a non-exclusive license to use bFcRn transgenic mice by ImmunoGenes in 2014. ImmunoGenes has recently initiated its premium category "Customized Antibody Solution" program to develop monoclonal- and polyclonal-antibodies against challenging targets.
FcRn overexpression rescues IgG more efficiently resulting in higher level of antigen-specific IgGs in immunized transgenic animals which leads to the formation of more antigen-IgG ICs. Transgenic dendritic cells (DC) that overexpress FcRn present antigens more efficiently to T helper cells (TH) when loaded with antigen-IgG ICs. It also enhances the priming of naïve B cells, the expansion of antigen-specific memory B cells (BM) and plasma cells (antibody forming cells; AFC) in the secondary lymphoid organs. This results in a more diverse humoral immune response, a higher titer and higher affinity of antigen-specific IgG. (Green texts and arrows indicate cells and effects that contribute in augmenting the humoral immune response by FcRn.)
Members of the FcRn group (March 2017)
Dr. Attila Iliás, PhD, senior research scientist
Mr. Bence Szikora, MSc, PhD student
Research projects
Analysis of the basic mechanisms of the humoral immune response in transgenic mice that overexpress the neonatal Fc receptor (OTKA K101364; 2012 – 2014).
Selected publications
Vaeth M, Yang J, Yamashita M, Zee I, Eckstein M, Knosp C, Kaufmann U, Karoly Jani P, Lacruz RS, Flockerzi V, Kacskovics I, Prakriya M, Feske S. ORAI2 modulates store-operated calcium entry and T cell-mediated immunity. Nature Communications 8: p. 14714. (2017)
Cervenak, J., Kurrle, R., and Kacskovics, I. 2015. Accelerating antibody discovery using transgenic animals overexpressing the neonatal Fc receptor (FcRn) as a result of augmented humoral immunity. Immunological Reviews 268: 269-287
Schneider Z, Jani PK, Bence S, Végh A, Kövesdi D, Iliás A, Cervenak J, Balogh P, Kurucz I, Kacskovics I. 2015. Overexpression of bovine FcRn in mice enhances T-dependent immune responses by amplifying T helper cell frequency and germinal center enlargement in the spleen. Frontiers in Immunology 6:357
Dudok B, Barna L, Ledri M, Szabo SI, Szabadits E, Pinter B, Woodhams SG, Henstridge CM, Balla GY, Nyilas R, Varga C, Lee S-H, Matolcsi M, Cervenak J, Kacskovics I, Watanabe M, Sagheddu C, Melis M, Pistis M, Soltesz I, Katona I. 2015. Cell-Specific STORM Super-Resolution Imaging Reveals Nanoscale Organization Of Cannabinoid Signaling. Nat Neurosci 18:75
Cervenak J, Doleschall M, Bender B, Mayer B, Schneider Z, Doleschall Z, Zhao Y, Bosze Z, Hammarstrom L, Oster W, Kacskovics I. 2013. NF-κB induces overexpression of bovine FcRn: a novel mechanism that further contributes to the enhanced immune response in genetically modified animals carrying extra copies of FcRn. mAbs 5: 858 - 69
Lemos APC, Cervenak J, Bender B, Hoffmann O, Baranyi M, Kerekes A, Farkas A, Bosze Z, Hiripi L, Kacskovics I (2011) Characterization of the rabbit neonatal Fc receptor (FcRn) and analyzing the immunophenotype of the transgenic rabbits that overexpress FcRn. PLoS One 2012; 7(1):e28869
Kacskovics I, Cervenak J, Erdei A, Goldsby RA, Butler JE (2011) Recent Advances Using FcRn Overexpression in Transgenic Animals to Overcome Impediments of Standard Antibody Technologies. mAbs 3: 431-439
Vegh, A., Cervenak, J., Jankovics, I., and Kacskovics, I. (2011). FcRn overexpression in mice results in potent humoral response against weakly immunogenic antigen. MAbs 2011 Mar 1;3(2):173-80.
Cervenak, J., Bender, B., Schneider, Z., Magna, M., Carstea, B.V., Liliom, K., Erdei, A., Bosze, Z., and Kacskovics, I. (2011). Neonatal FcR Overexpression Boosts Humoral Immune Response in Transgenic Mice. J Immunol 186, 959-968.
Bender, B., Bodrogi, L., Mayer, B., Schneider, Z., Zhao, Y., Hammarstrom, L., Eggen, A., Kacskovics, I., and Bosze, Z. (2007). Position independent and copy-number-related expression of the bovine neonatal Fc receptor alpha-chain in transgenic mice carrying a 102 kb BAC genomic fragment. Transgenic Res 16, 613-627.
Zeöld, A., M. Doleschall, M. C. Haffner, L. Capelo, J. Menyhért, Z. Liposits, A. C. Bianco, I. Kacskovics, C. Fekete, and B. Gereben. 2006. Characterization of the NF-kappaB responsiveness of the human dio2 gene. Endocrinology 147, 4419-4429.
Kacskovics, I., Z. Kis, B. Mayer, A. P. West, Jr., N. E. Tiangco, M. Tilahun, L. Cervenak, P. J. Bjorkman, R. A. Goldsby, O. Szenci, and L. Hammarstrom. 2006. FcRn mediates elongated serum half-life of human IgG in cattle. Int Immunol18:525-536.
Zhao Y., Kacskovics I., Rabbani H. and Hammarstrom L. (2003) Physical Mapping of the Bovine Immunoglobulin Heavy Chain Constant Region Gene Locus. J Biol Chem 278, 35024-35032.
Zhao Y., Pan-Hammarstrom Q., Kacskovics I. and Hammarstrom L. (2003) The Porcine Ig delta Gene: Unique Chimeric Splicing of the First Constant Region Domain in its Heavy Chain Transcripts. J Immunol 171, 1312-8.
Zhao Y., Kacskovics I., Pan Q., Liberles D. A., Geli J., Davis S. K., Rabbani H. and Hammarstrom L. (2002) Artiodactyl IgD: The Missing Link. J Immunol 169, 4408-4416.
Kacskovics, I., Wu, Z., Simister, N.E., Frenyo, L.V., Hammarstrom, L., 2000, Cloning and characterization of the bovine MHC class I-like Fc receptor. J Immunol 164, 1889-1897.
Brown, W.R., Kacskovics, I., Amendt, B.A., Blackmore, N.B., Rothschild, M., Shinde, R., Butler, J.E., 1995, The hinge deletion allelic variant of porcine IgA results from a mutation at the splice acceptor site in the first C alpha intron. J Immunol 154, 3836-3842.
Sun, J., Kacskovics, I., Brown, W.R., Butler, J.E., 1994, Expressed swine VH genes belong to a small VH gene family homologous to human VHIII. J Immunol 153, 5618-5627.
Kacskovics, I., Sun, J., Butler, J.E., 1994, Five putative subclasses of swine IgG identified from the cDNA sequences of a single animal. J Immunol 153, 3565-3573.