Történet
A tanszék története
The history of the first Department of Immunology in Hungary
In 1973 within the frame of a new graduate program, the Faculty of Natural Sciences at Eötvös Loránd University (ELU) decided to introduce basic immunology for biology students, and Professor János Gergely was requested to establish the first Immunology Department in Hungary. In addition to the fascinating surrounding at Göd (a nice little town at the Danube, close to Budapest), a professorship, position for a demonstrator and a technician were offered. Four tiny labs, two out-of-date fraction collectors and lots of enthusiasm combined with optimism, this was the equipment of the new Department of Immunology, the first and for more than two decades the only one in Hungary. The small Department was developing fast, soon occupied both levels of the building at Göd, and gradually became better equipped. Almost 30 years later the Department and the Immunology Research Group of the Hungarian Academy of Sciences (which has been formed nearly 20 years ago) moved down the Danube to the new building of the Faculty of Natural Sciences in Budapest, occupying several new, sophistically equipped laboratories.

The primary duty of the Department has always been teaching however, our beleif is that high level teaching is always associated with a good quality research. A significant part of our activity is translational research, aimed at improving diagnostic and therapeutic approaches. At least 80 percent of immunologists working now in leading positions in Hungary or representing the younger generation of immunologists were trained at our Department and worked for shorter or longer periods with us. Several graduate students prepared their thesis and more than 40 postgraduates accomplished their doctoral work here. Three full professors, one professor emeritus in Hungary and two professors in the USA emerged from our Department; two of them are members of the Hungarian Academy of Sciences.
Our philosophy from the beginning has been that science is international (it sounds as a banality now; however, it was not so obvious at the beginning, under the political circumstances in Hungary at that time). This is why our Department established close cooperation with several important research centers abroad which proved to be extremely fruitful for both sides. Our friends in Basel, Berlin, Bethesda, Birmingham, Innsbruck, Iowa City, Mainz, Oxford, Paris, Rehovot, Stockholm, and Vienna opened their doors wide to our people. We still enjoy their friendship and cooperation. Between 1992-1996 a laboratory was organized for four members of our Department at the Vienna International Research Cooperation Center (VIRCC) in Austria.
Members of our department took the lion's share in the organization of many international meetings in Hungary - among others the 4th European Immunology Meeting, 8th International Congress of Immunology, FEBS Summer Schools and already 14 symposia entitled Signals and Signal Processing in the Immune System.
These fruitful years resulted in more than 300 scientific papers in international peer- reviewed journals. In the last 5 years members of the Department and the Research Group of the Academy obtained approximately 2 million Euros as financial support from various Hungarian and EU sources. In 2007 the Federation of European Biochemical Societies (FEBS) evaluated our activity with the following conclusion: "The Department of Immunology of the Eötvös Loránd University is an impressive teaching and research center which has succeeded in performing remarkably well."
Some of our results showed industrial values that led to file 6 patent applications. A spin-off company has been recently formed and another one is on its way, based on two different novel technologies.
Head of the Department of Immunology at Eötvös Loránd University:
János GERGELY 1973-1993
Anna ERDEI 1993-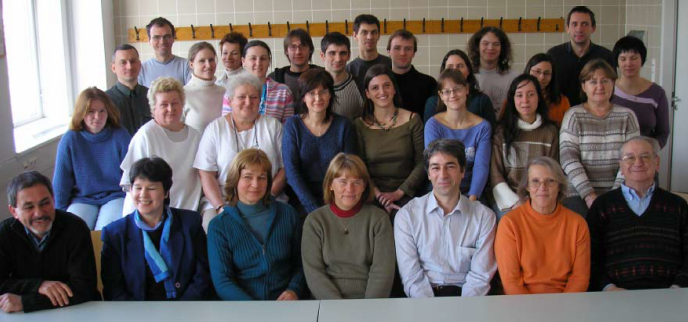 Kelt 2008-ban